Hello, readers! Welcome to the Architecture Plus blog! We provide useful information concerning architectural design, unique trends, and essential aspects of the residential and commercial building process. Based out of Charleston, our full-service firm specializes in new residential construction, renovation, and commercial design. We aim to create sustainable structures which facilitate the health of their inhabitants while pairing harmoniously with their surrounding community. We encourage you to take a look at our residential and commercial galleries to glimpse our work and assess our artistic vision. If you need any additional information, reach out to us!
Our last article discussed architectural trends of 2022. We talked about trends that have been rising in popularity recently, and what we predict will continue to take prominence this year. Some of these trends included the use of virtual reality in architecture to bring designs to life, multifunctional homes in the wake of COVID-19, health and hygiene implemented into the home's amenities, and natural, earth-toned color palettes. In fact, green seems to be the color of 2022! Check out our last article to find out more.
Today, we'll be taking a look at some of the most noteworthy buildings of Charleston, South Carolina in terms of architecture. With our busy everyday lives, we sometimes forget to stop, take a look around, and revel in the beauty of the world around us– That includes beautiful architecture, and our state is full of it! South Carolina exhibits a variety of architectural styles including Colonial, Georgian, Federal, Classic, Revival, Gothic Revival, Italianate, Victorian, and Art Deco. Charleston in particular has a rich, 300-year history with wonderfully preserved buildings. If you're interested in learning about just some of the many gorgeous buildings in this area, you're in the right place. Let's dive right in!
The Huguenot Church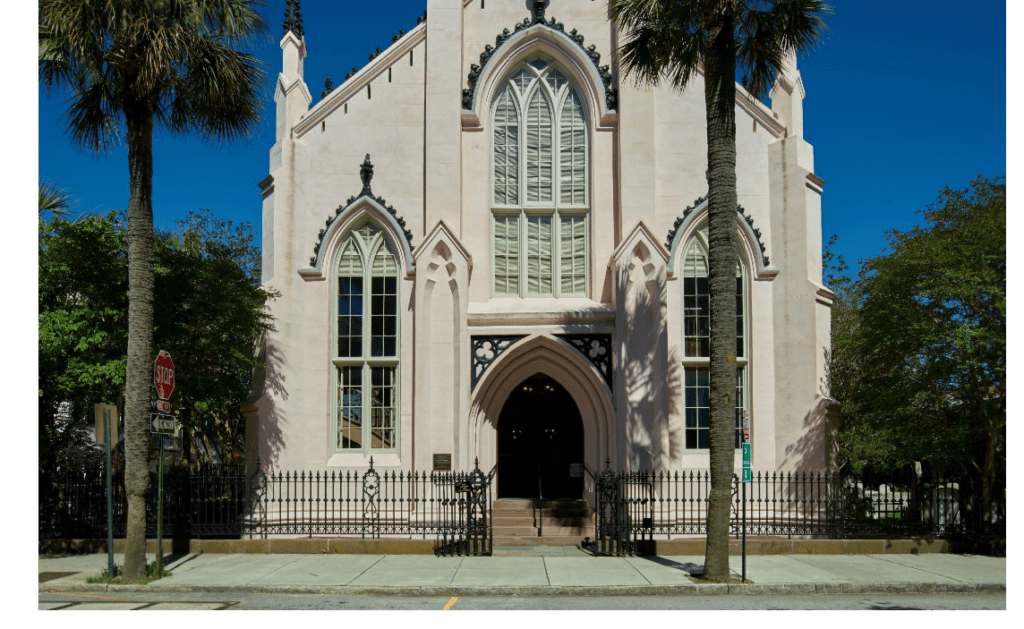 First on our list is The Huguenot Church, sometimes referred to as the French Huguenot Church. Located in Charleston, this unique church was completed as we know it today in 1845, but it's history dates back farther than that. The Huguenot (or French Protestant) movement contributed to the European Protestant Revolution due to the harsh prosecution of the Protestants by the French Catholic Court. This resulted in their migration to other lands in Europe, South Africa, and the Americas. By 1680, a ship of Huguenots arrived in Charleston with, with more following. By 1687, a church was built on what is now the corner of Church St. and Queen St. in downtown Charleston. A fire destroyed the church in 1796, and a replacement was completed in 1800, but later dismantled in 1844 to be replaced with a Gothic Revival building in 1845, which is the structure that can still be seen today. Designed by Edward Brickell White, a local architect, the church has a stuccoed brick structure, three bays wide and six bays long, with narrow buttresses dividing them. This beautiful edifice is the oldest Gothic Revival building in South Carolina, and is the only independent Huguenot church in the United States. It has been designated a National Historical Landmark, and rightfully so. 
Wentworth Mansion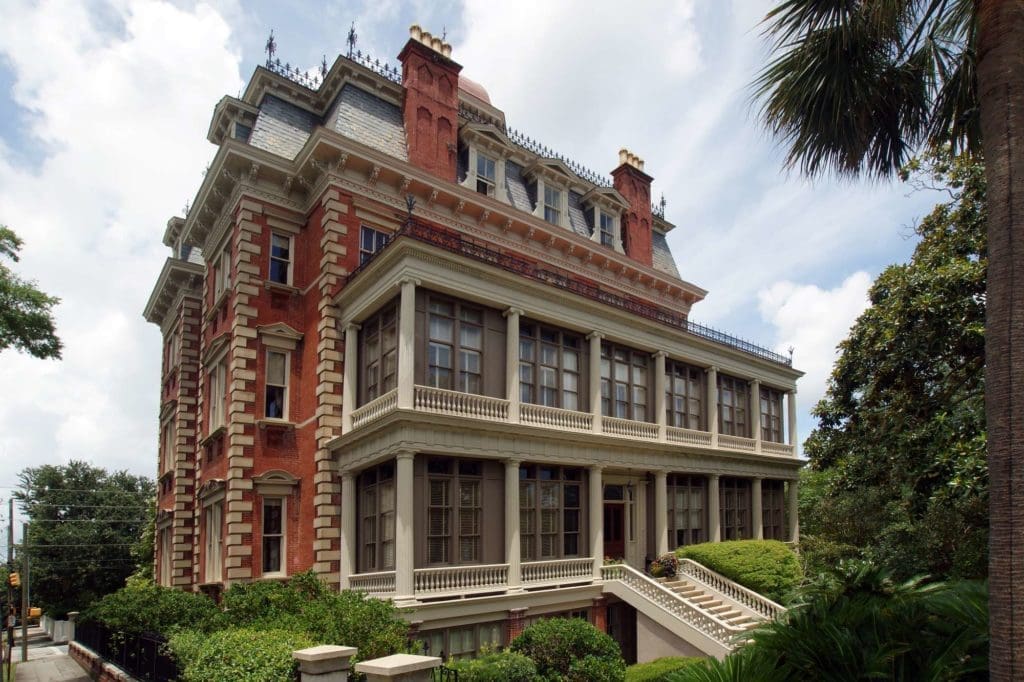 Built in 1886 by Francis Silas Rogers, a wealthy cotton merchant, and designed by architect Daniel G. Waynes, this luxurious mansion on Wentworth St. in Charleston is an architectural treat for the eyes. It is designed in Second Empire style and incorporates Victorian-style elements as well as Italianate and Gothic styles. In 1997, the Wentworth Mansion underwent extensive renovations in order to preserve its original architectural features, while also adding modern amenities like luxury bathrooms for a magnificent hotel experience. This 24,000 square foot, 21-room wonder features Italian crystal chandeliers, hand-carved marble fireplaces, and Tiffany stained glass. It is an integral part of Charleston's history and a must-see for any history or architecture enthusiast!
Drayton Hall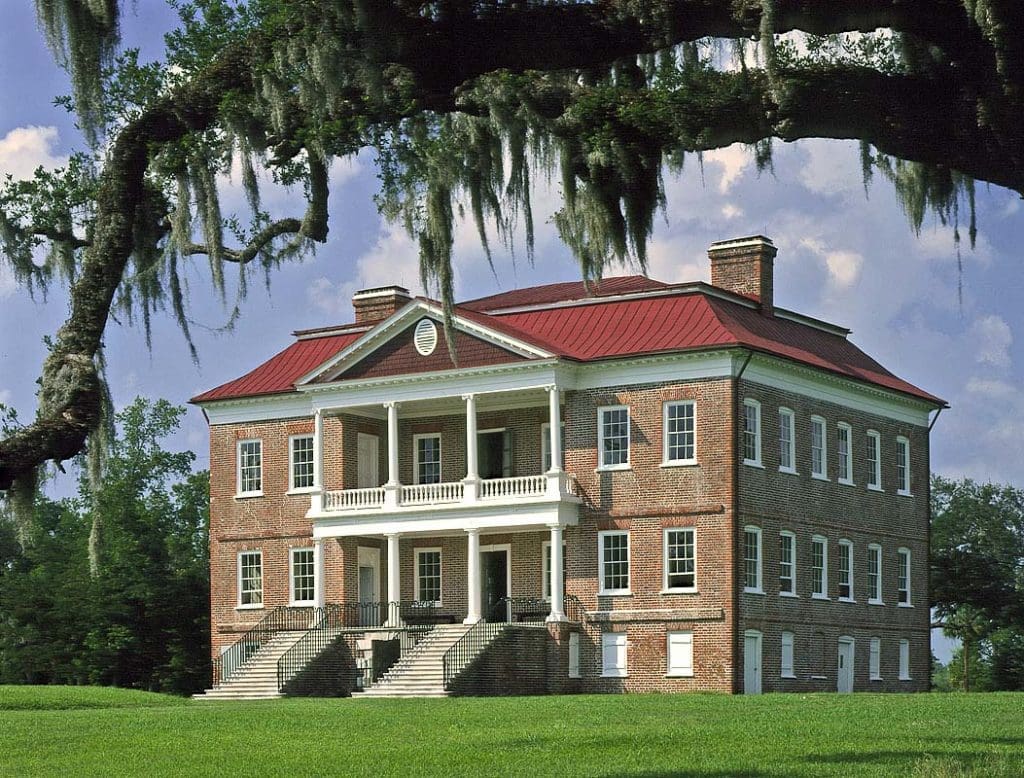 This 18th-century plantation is the only plantation house on the Ashley River to survive intact through both the Revolutionary and Civil wars. It is unclear when exactly construction of the building was completed, but it is thought to have been occupied by the early 1750s. Another National Historic Landmark, it is the earliest and finest example of Palladian architecture in the United States. It features a double projecting portico on the outside as well as a Palladian floor plan inside. The property was constructed for John Drayton, whose wealth was facilitated by the institution of slavery. Drayton Hall has never been restored: It was stabilized to preserve it as it was acquired from the Drayton family in the 1970s. The Drayton Hall Preservation Trust is constantly studying the historic structure to learn more about how the building was designed, built, and used. 
Middleton Place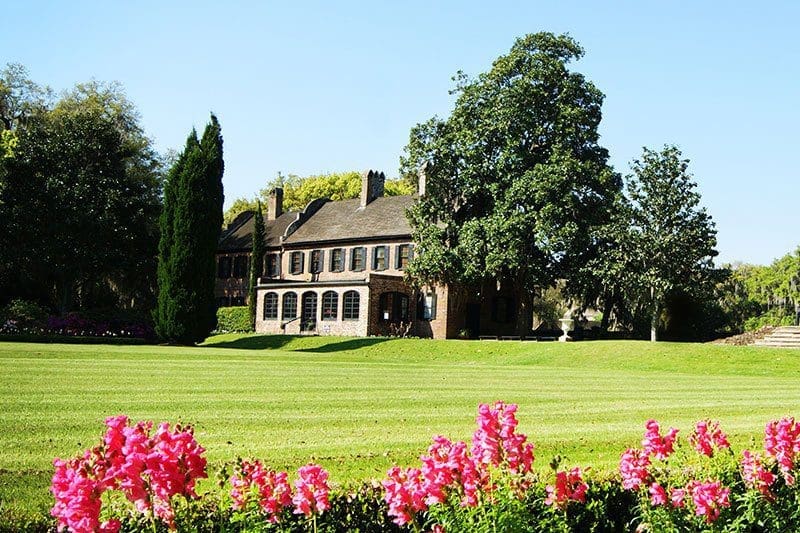 Another plantation across from the Ashley River, Middleton Place is rich in history It was built in several phases throughout the 18th and 19th centuries, with building thought to have been started by John Williams in the late 1730s.  It was home to several generations of the Middleton family, a prominent family with roles in colonial and antebellum history of South Carolina. (Henry Middleton, the son-in-law of Williams, later served as President of the First Continental Congress, and his son, Arthur, was a signer of the Declaration of Independence.) Later members of the family continued construction and transitioned it from a residence to an active rice plantation. In 1865, Union soldiers burnt most of the house, and in 1886 an earthquake toppled the walls of the main house and north wing. Restoration of the house began in 1925, and today it serves as a museum with stable yards, an inn, a restaurant, and some of America's oldest landscaped gardens that reflect the grand, classic style of Europe and England. Rational order, geometry and balance, vistas, and focal points were all part of the garden design. 
Cathedral of St. John the Baptist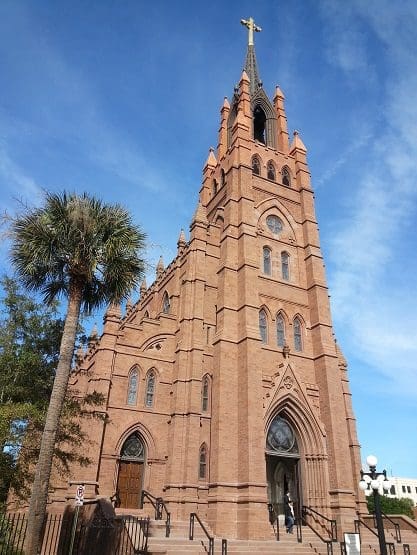 In 1821, Bishop John England, the first Bishop of Charleston, purchased property as a site for a cathedral. The "dwelling house" on the lot was blessed by Bishop England as a temporary chapel for the congregation. It was named in honor of St. Finbar, the patron saint of Cork, Ireland. Building began in 1850, and the cathedral was consecrated in 1854, being called the Cathedral of St. John and St. Finbar. However, a fire broke out at a factory in 1861, destroying much of the street and taking the cathedral with it. 45 years later, the cathedral was rebuilt and reopened in 1907 with its current name, the Cathedral of St. John the Baptist. Both the original and present cathedral was designed by Patrick Keely, an architect based in Brooklyn, New York. The cathedral is built in the Gothic Revival style, constructed of Connecticut brownstone with pews carved of Flemish oak. Various chapels can be found inside, as well as beautiful stained glass windows. 
Rainbow Row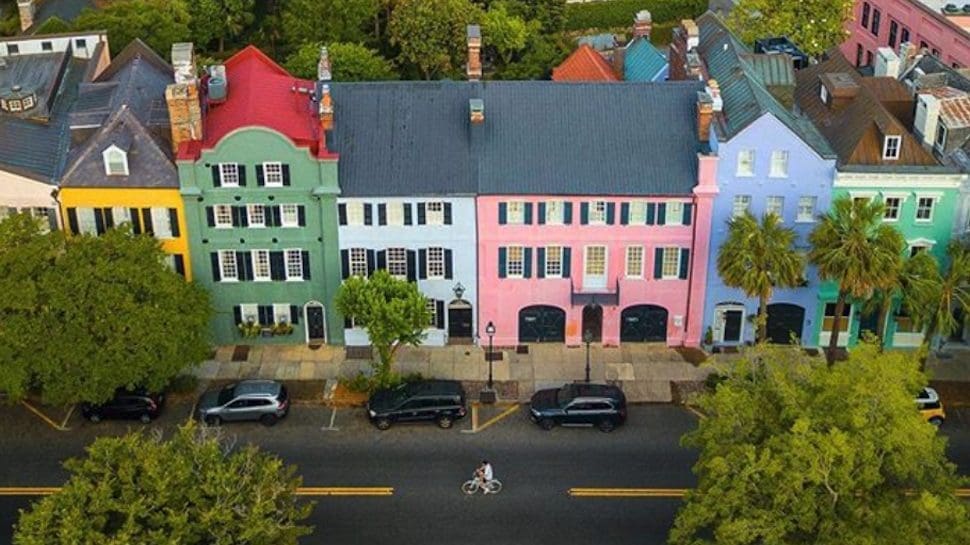 Rainbow Row refers to the series of 13 historic houses along the waterfront in Charleston. These Georgian-style houses were not always vibrant– They were first constructed around 1740 and after the Civil War, this area became run-down and was considered a slum. This changed, however, when Dorothy Haskell Porcher Legge purchased a section of these houses in 1931 and began renovating them. She made the bold choice to paint the homes a pastel pink, hoping to make the area look nicer. Then, other homeowners followed suit, painting the homes various pastel colors. There are various myths and theories about the chosen color scheme, such as the houses being painted different colors so that drunken sailors coming in from the port could remember which house they were going to– but none of these tales have been proven true. This is one of the most popular tourist attractions in Charleston, and one of the most photographed.
These are just a few of the many historic and architecturally interesting places in Charleston. Charleston is home to 34 National Historic Landmarks, and is referred to as America's most beautifully preserved architectural and historical treasure, sometimes described as a "living museum". We hope you found this article informative and we encourage you to get out there and explore all that Charleston has to offer. It might spark inspiration for your next project! For more information on architectural design and building, keep up-to-date with the Architecture Plus blog. If you're ready to sit down with an experienced team of designers and hash out the elements of your next project, reach out to us! We're eager to hear from you. Until next time, thank you for reading!